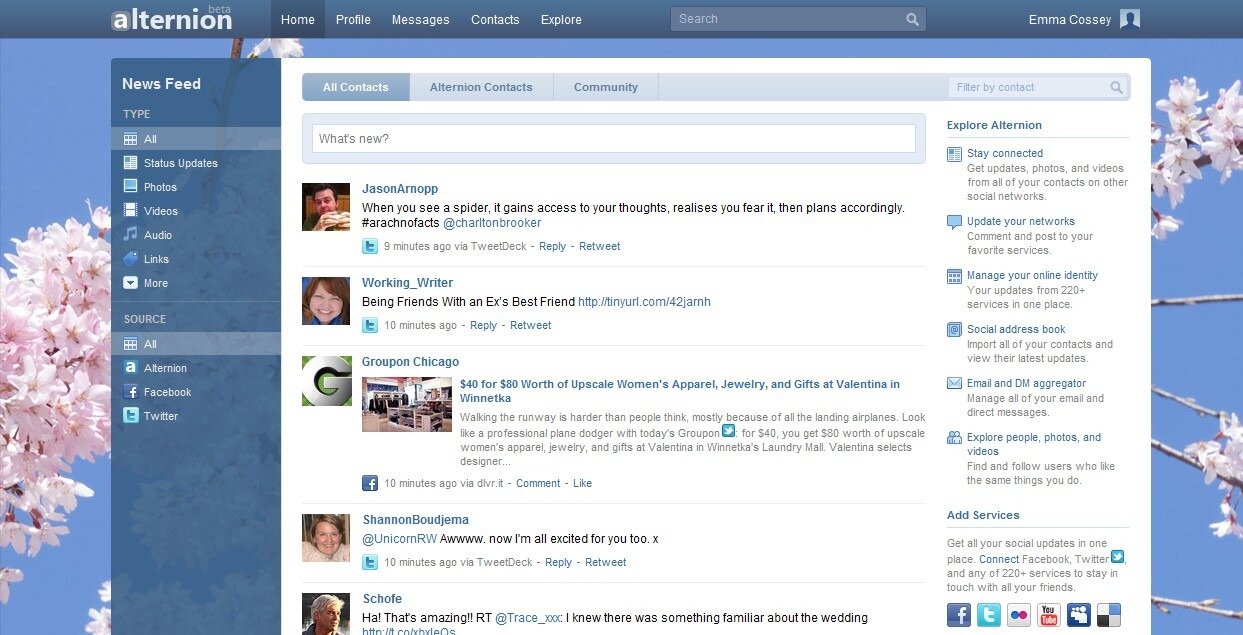 As a social media professional, you might often find yourself spending a lot of time logging in and out of a number of social media sites, not to mention your emails and RSS feeds. And while there are solutions to deal with some of the problems — like Hootsuite and Tweetdeck for handling multiple social media accounts — there's a serious lack of solutions for dealing with all your online accounts.
Which is why Alternion is starting to create a real buzz. Alternion is "a free web service that enables you to aggregate and manage all your social, content, email, and RSS feeds." You can track all your accounts, while using it to post your own updates.
Here are five reasons you need to check out Alternion.
Like Hootsuite, Alternion is web-based so you can login to your account anywhere in the world, without having to download a desktop application.

You can add over 220 social networks and services, covering even the most obscure sites. Once you've added them, you only need to login to Alternion to view the account activity.

You've got a tab for all your social media content, and another tab for all your emails and direct messages. Both tabs give you access to multiple accounts, so you only need to click between the two to keep updated on all your social accounts. Much more preferable to Threadsy, which squeezes the two into one frame.

You can filter your stream down to videos, photos, links, audio, status updates and many more. I particularly like the link section, for cutting through the chat.

You can use the 'Explore' function to find other users in the community who share the same interests, therefore furthering your social reach.
It's still in beta at the moment, so there are a few quirks still (particularly if you're an Internet Explorer user). The development team are very receptive to suggestions though, so it's worth getting in touch with them.
I'm excited to see where this service will go. Potentially, it could save a lot of time and effort! If you fancy trying it out, you can sign up for a beta invitation.