How much time do you think you spend online? With internet access at work, at home and on your mobile, you're never far from an opportunity to tweet, Google something or shop online.
Check out this infographic How the World spends its time online, taken from a recent Nielsen study.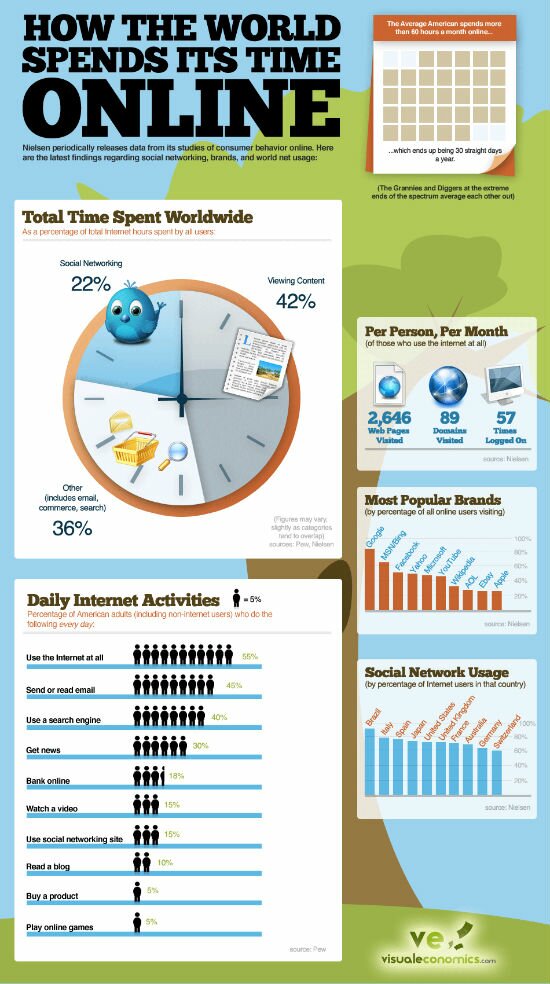 To summarise:
The average American spends more than 60 hours a month online. That's the equivalent of 30 days a year!
42% of users are viewing content, 22% are using social networking and 36% are using other aspects, like retail sites, email and search sites.
The average person visits 2,646 web pages a month, 89 domains and log on 57 times.
The most popular brands include Google, MSN/Bing, Facebook, Yahoo, Microsoft, YouTube, Wikipedia, AOL, eBay and Apple.
Brazil leads the pack for social network usage, with Italy, Spain and Japan following just behind.
Of the Americans surveyed, 55% use the internet, 45% send or receive emails, 40% use search engines and 30% get the news.
Do you spend more than 60 hours online a month?
Source: Penn Olson